Polka Parade is the only remaining polka music radio program that originates from Milwaukee, Wisconsin. Now in our 37th year on the radio, Polka Parade keeps the polka musical tradition alive by broadcasting four hours each Saturday over WJYI 1340AM and 98.7 FM. The show starts with German music from 9-10am, Polish style polkas, waltzes and obereks, from 10-11am, Slovenian or Cleveland-style from 11am-1pm, with an added blend of polka styles mixed in from 12-1pm. Along with wonderful advertisers and sponsors, Polka Parade is supported financially by its listening audience, the Polka Parade Pals.
Quick Links
| | | |
| --- | --- | --- |
| | | |
| Listen Live From 9AM - 1PM CST | Hear Previous Polka Parade Shows | Visit us on Facebook |
| | | |
| Make a Credit Card Pals Payment | Become a Polka Parade Pal | |
Latest Updates!
March 2, 2019 Renewals have been mailed to all Polka Parade Pals members who h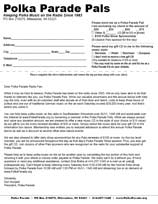 as been active within the past four yeras. Please be sure to return your Pals renewal for 2019. If you're not currently a member of the Polka Parade Pals, you can still help keep Polka Parade on the air and on the Internet by joining hundreds of other Pals members who are the number one reason Polka Parade has remained on the air since 1982 while many other polka shows have gone away. No donation is too small. Plus your Pals membership donation of $35 or greater gets you a brand new polka CD as our gift to you (a $15 value). Your $100 or greater donation gets you a weekly sponsorship, where you will be the Polka Parade Pall of the week during all four shows! Click on the form, fill it out, and join today!


You may also safely make your Polka Parade Pal donation using any major credit card through PalPal. Click the "Make A Donation" button above to complete your transaction. You do not need to have or create a PayPal account to complete your Pals membership.
May 26, 2018 Starting on June 2nd you'll be able to listen to four hours of Polka Parade uninterupted! Heimat Echo moves to 9:00 AM every Saturady, allong for a total of four straight hours of your favorite music every Saturday morning. Sleep a little later if you'd like to, then catch Heimat Echo at 9:00 AM, followed by three hours of polka music straight through to 1:00 PM. It's four hours of Polka Parade every Saturday, starting June 2, 2018.
May 14, 2016 If you're in the Milwaukee area, you can now listen to Polka Parade on the FM dial. Along with 1340 AM, WJYI and Polka Parade now broadcast on 98.7 FM as well! That means you now have three ways to hear Polka parade every Saturday - streaming live by clicking above, on the radio at 1340 AM or on the radio at 98.7 FM.