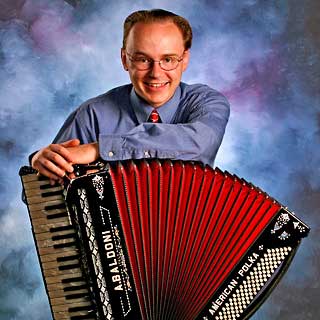 Polka Parade Duties
DJ for Cafe Slovenia
DJ for International Carousel
Mike Schneider is one of the youngest members of Polka Parade, but a man of many significant credentials. Mike has won the Wisconsin Polka Hall of Fame Horizon Award,the Distinguished Service Award from the Wisconsin Polka Booosters and has been nominated twice for the Best New/Young Band award from the Cleveland style Polka of Hall Fame.
Mike is a graduate of Whitefish Bay Dominican High School and Cardinal Stritch University. When he was a young boy, Mike happened to see America's Polka King, Frankie Yankovic, perform and Mike became "hooked on polkas." Soon he was taking accordion lessons and while in the 8th grade made his first public appearance on stage at Our Lady of Good Hope fair.
Mike's high profile public appearances run the gamut; from Tony's Thanksgiving Polka Party in Cleveland, to the Wisconsin State Fair, to Milwaukee's Summerfest and Rainbow Summer, to the Wisconsin Polka Fest at Concord, WI.
Mike Schneider has released the following recordings:
Pint Size Polkas II Dance!
Pint Size Polkas
The Mike Schneider Band Live!
Accordion Artistry
A Stretch of the Imagination
Polka Visions
The Pursuit Of Polka's Lost Frontier
Each week his talents are featured at the beginning of every Polka Parade show with Polka Parade's opening theme.
To learn more about Mike Schneider and the Mike Schneider Band: visit the Mike Schneider Band website