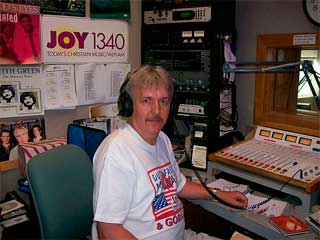 Polka Parade Duties
Polka Parade Treasurer
DJ for the Polish hour
Occasional DJ for the Mix hour
Welcome to our Polka Parade Website:
As one of your hosts of Polka Parade it is my pleasure to introduce myself to you. As someone who grew up enjoying polka music on the radio, and watching polka shows on television, I have been a polka music fan for a very long time. I can still remember listening to "Fritz the Plumber" on Saturday morning, and enjoying his live broadcasts. This is the reason that I enjoy doing live broadcasts, hopefully brightening your Saturdays.
I also was very fortunate to have been born and raised in a family when there was a celebration, enjoyed the music of a live polka band. This led to my interest in becoming a musician. In addition to having my own band, I had the pleasure of being a part of many fine bands. As I wonder down my own memory lane, here are just some of the local groups I was a part of: "The Stoller Musicians", "Danny & The Ravens", "The Sunlighters", "Carl Panfils' Band", "Brian O'Donnell Band", "The Dancemaster Trio", "Les & Patti" and I could list many more.
I was able to be a part of the Polka Parade crew as I did some co-hosting with Jerry Halkoski. As time continued on I became his replacement when he was unable to get a show recorded as scheduled. His help, support, and encouragement will always be appreciated. Another DJ from the Polka Parade crew that I wish to remember in his support of my endeavor to bring the "JOY" of polka music to all of you is John Koss. His untimely passing has left a physical void, but also a pleasant memory. In addition, I host a show on the Internet at www.247polkaheaven.com. It is called "The Polka Party Powerhouse", featuring the Polish polka-style.
Lastly, but certainly not least, are my family and friends. My wife Sharon and I met while at a polka event and to this day still share the enjoyment of listening and dancing to this great music. I owe her and our son Adam a lot of thanks for their support of me as I continue on with my music endeavors. We have made many good friends (most of them are more like family) as this journey for me continues. These are not only fellow polka fans, but also musicians, IJ's, DJ's, polka promoters and the list goes on and on.
I invite you to continue to listen when you can but also please go out and enjoy these bands as they are even better in a live performance. As I bring this auto-biography to a close, don't forget, when I am in the studio give me a call on the telephone to make a dedication or to just say hi, and if you see me around, come on up and introduce yourself.
Bringing you the "JOY" of polka music,
Terry Czajkowski