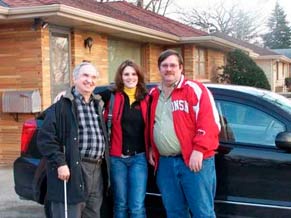 Your hosts, Bob and Greg
with Rita of the
Original Zillertal Sound
Heimat Echo is the newest addition to the Polka Parade line-up. Heimatecho's repertoire is a unique blend of traditional German Volksmusik, brass band music, and Schlager Hit Parade music from the 1950's and 1960's permeate the . While not totally a polka show, Heimatecho is 100% ethnic in nature.
Hosted by Bob Ziegenbein and Greg Drust, Heimat Echo tries to cover all facets of German music. Bob's specialty is music from Europe. Having made 3 trips to Germany and Austria, Bob was fortunate to see many Volksmusik acts that currently perform there. One of Bob's goals is to play and demonstrate that this type of music does not have to end by playing many bands whose members are under the age of 30.
The role of Greg Drust is to act a complement to Bob's portion of the show and feature primarily local Milwaukee German bands and other German from throughout the United States.
Heimatecho has taken the Milwaukee German community by storm and has raised its listenership exponentially in little more than a year.