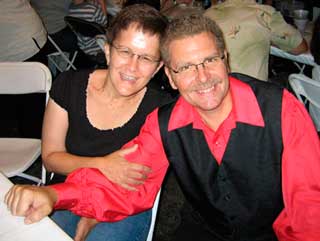 Polka Parade Duties
Presenters of the "

Where the Bands Are

" feature
Scott and Pam Koehn are the hosts of "Where the Bands Are" on Polka Parade. Scott is a superb musical talent playing keyboards, Accordion, and Steirische Harmonika (button accordion). Scott has played accordion with many bands including Louie Bashell, Scott Bixby, and the Kenny Brandt bands to name just a few.
Scott other musical accomplishments include:
Polka DJ for WTKM & WYMS
Church organist and choir director
Played and recorded with Frankie Yankovic
Scott has been an Investment Banker for 22+ years-now with Investment Solution Services. For the past seven years Scott & Pam have resided in Merrill, Wisconsin.
Pam was raised with polka music. Pam's talents lay with her assisting Scott daily. Pam & Scott met at polka dance. During their 25+ year marriage she has been a Banker/Investment Agent with Scott. For the past 18 years Pam has been involved in the production of Polka Parade's "Where the Bands Are."