Continued...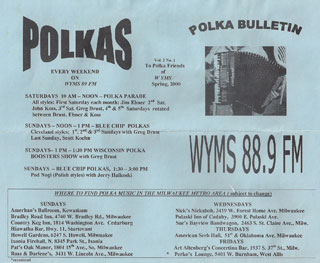 Local and more widespread band leaders quickly responded as well by contributing copies of their albums. The polka library swelled to hundreds of albums within several short weeks. Response to the show was overwhelming and as a result Polka Parade was approved by station management to continue indefinitely at the Saturday noon time slot! It became Jim Ebner's happy task to host the show.
More great things happened in April of 1983 when the radio station decided to expand the polka format by adding a two hour Thursday evening show. It was named Blue Chip Polkas. Originally hosted by Jerry Halkoski, Rick Gundrum, Don Hunjadi and Jim Ebner; this show gradually changed personnel over the years, adding such popular musicians and polka aficionados as Don Gralak, BB Carter, Walter Unglaub, Greg Drust, John Koss, and Scott Koehn. Because on-air fund-raisers for the program achieved record levels, station management moved the show to the weekend where Polka Parade and Blue Chip Polkas emerged as a one-two punch for the station's weekend programming. They served as a bridge between other ethnic shows on Saturday and Sunday afternoons. This partnership endured until WYMS discontinued their polka format in 2003. A swift move to Milwaukee's WEMP resulted.
Polka Parade's new found home at 1250 AM lasted for a year. Money was urgently needed to finance air costs. Twenty thousand dollars was required to sustain three hours of weekly shows. It became time for Polka Parade to create new revenue sources. Consequently the Polka Pals were formed. More than 300 charter members joined and came to the rescue. Fund-raisers and benefit dances were also initiated.