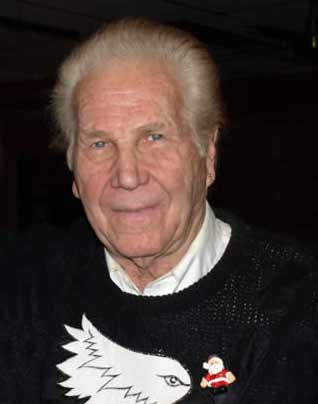 Polka Parade Duties
Dick Blaha serves as Polka Parade Vice-President and he is the Polka Ambassador. He grew up in Milwaukee and has been a Milwaukee resident all his life except for a brief stint with Uncle Sam in the 1950's.
As inaugural listener to Polka Parade, Dick Blaha became involved with Polka Parade in the late 1990's when Jim Ebner asked him to help promote Polka Parade. Dick Blaha threw caution to the wind and quick became known as the "Polka Ambassador" because was constantly promoting Polka Parade. Often attending multiple Polka Fests and dance events weekly, Dick Blaha is always there to promote Polka Parade. Besides on-site Polka Parade promotion, Dick Blaha became the main mover-and-shaker for Polka Parade's successful annual Benefit Dances.
Dick Blaha also performs multiple duties for Polka Parade behind-the-scenes. Whether it be answering telephone questions, responding to e-mails, or emergency DJ, Dick Blaha can always be counted on to serve up goodwill towards Polka Parade in the polka community.
Dick Blaha is also heavily involved with the Wisconsin Polka Boosters . Dick Blaha's hard work, determination, and promotional ability earned him the 2008 "Support and Promotion" award from the Wisconsin Polka of Fame.